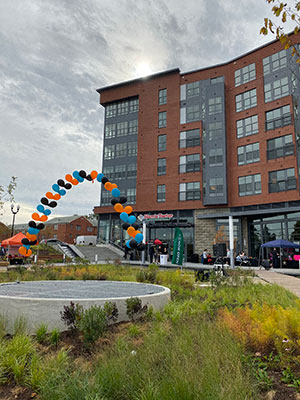 The new Harris Teeter store along Columbia Pike opened its doors to the public last week.
A ribbon cutting and a grand opening celebration took place at the store (950 S. George Mason Drive) on Tuesday, October 22 from 4-7 p.m. During the grand opening, a "Taste of Teeter" was held throughout the store, featuring grocery product samples.
The finished grocery store is has just over 50,000 square feet of space and is a larger part of the redevelopment of the Columbia Pike Village Center, dubbed "Centro Arlington."
In celebration of the new store, Centro Arlington developers Orr Partners, in partnership with the Columbia Pike Revitalization Organization (CPRO), hosted a Fall-themed party on Saturday, October 26 from 2-6 p.m.
"We wanted to invite everyone to join us for this [Halloween] celebration to thank the community for putting up with our dust as we constructed this great project," said David Orr, Chairman of Orr Partners, in a press release.
Developers first announced the large-scale project — which includes 22,150 square feet of public space, a three-level parking garage, and 365 market-rate apartments) — in 2015. It was approved by the county a year later, resulting in the demolition of the former Food Star grocery store.
Harris Teeter joins Centro Arlington tenants Orangetheory Fitness, Eye Smile Optometry & Dental Care, and pop-up hotelier WhyHotel.